Hoses and Fittings
Hydraulic Power Sales Inc. offers numerous types of hydraulic hoses, fittings and to our customers, which includes a huge selection, ensuring we have what you need. Our inventory includes low, medium, and high-pressure hydraulic hoses, which meet or exceed industrial specification requirements and standards. Not sure what you need specifically? Ask us, and our knowledgeable sales reps will be glad to assist you. 
Hydraulic Hoses
We supply high quality hydraulic hose here at Hydraulic Power Sales. Hydraulic hoses need to be the correct size, length and pressure-rated to ensure your hydraulic equipment runs properly problem free. Rely on Hydraulic Power Sales to make sure you get the right hoses for your specific application. Some of the stock hoses we carry include:
High-pressure 2-wire hose (1/4" up to 1")

High-pressure 4-wire hose (1/2" up to 2")

Suction and return hose (3/4" up to 2")

Cloth braided air brake hose (1/4" up to 1")

Thermo plastic hose (1/4", 3/8" and 1/2")
Air hoses (1/4" to 1")

Rubber hose (with all fitting styles for both standard and metric threads)

Stainless Steel hose (1/4" up to 1")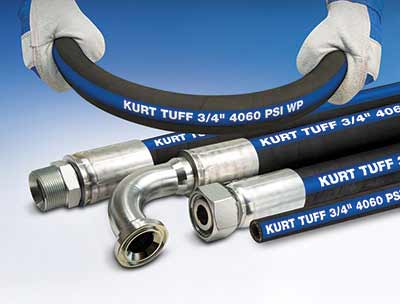 Hydraulic Hose ends and Fittings
Hydraulic Power Sales Inc. carries high quality hose ends and Adapters. From standard threads to Metric, we have you covered. We know that quality and availability matters when it comes to reliability and getting you back up and running.  We have invested in a huge inventory here at Hydraulic Power Sales to ensure product availability for our customers. 
We're knowledgeable in we sell and can help you find the right hydraulic fitting for your specific applications. We take all variables into consideration, including the size, media, temperature, pressure, location, and frequency. Let us provide you with components that offer a greater standard of reliability and reduce the risk of leaks or equipment failure.
Get Top-Quality Fluid Power Components
Hydraulic Power Sales Inc. knows that the quality of your hydraulic hoses and fittings have a major impact on business operations. Let us use our decades of expertise and excellent service to help you find the components that are right for your applications. Call us today at 916-631-9275 .